The Company
Since its creation in the 70s, SMP's speciality is high precision, first on the electric and connectors markets, and then on health care and packaging markets…
2004
January
CEO Jacky MAZZOLINI chooses to turn the company's strategy toward the Pharmaceutical industry market, which combines high-precision and high-speed working needs.
2008
The company wishes actively to extend its presence to export. It relies on competent organizations to lastingly shape this international approach.
2010
May
SMP sets up a subsidiary in Tunisia for the customers who are located in Africa. The aim of this site is to pursue maintenance of SMP molds locally used.
2012
December
0% of SMP turnover is generated on the Pharmaceutical industry market.
2013
June
SMP has opened up a trade office in Germany.
November
SMP sets up in new, greater premises (4,000 m²) in Lavancia, France (01590)
December
The testing center, which is composed of 3 injection machines (100T, 150T and 320T), integrates the premises in Lavancia.
2014
March
End of 2014
External growth with SOGENA's buying
2016
February
External growth with GMP's buying
March to August
1000 sq. m additional for SMP in Lavancia
End of 2016
Transfer of SOGENA in GMP's site
Videos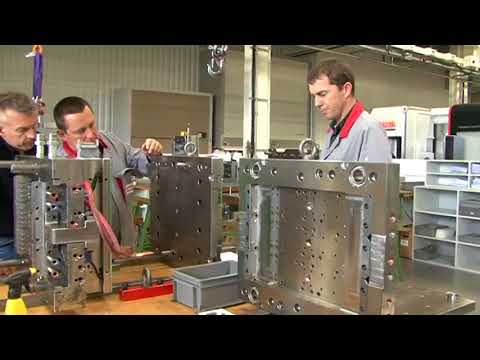 Few figures
45+ years experience
Turnover : 8.5 million euros
8% investment per year
5,000 m² production site
70 employees (including 5 apprentices)
Subsidiaries details
PRECIMOLD
ZI Sidi Abdelhamid TN-4001 SOUSSE Phone +216 73 321 455 Fax +216 73 321 460 Contact : Walid AYED
w.ayed@hpc-group.com.tn
SMP Verbindungsbüro Deutschland
Lebacher Str.4 D-66113 SAARBRÜCKEN Phone +49 681 9963 635 Fax +49 681 9963 111 Contact : Patrick SCHWEITZER
p.schweitzer@smp-moules.com
GMP
15 chemin de la Lumène FR-01460 NURIEUX VOLOGNAT Phone:+33(0)474 760 391 Contact : Robert ANTONIN
info@gmp.fr